'Hybrid' CalMac ferry launched from Port Glasgow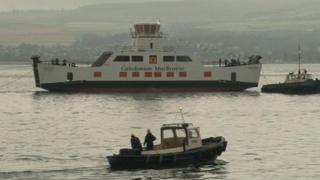 The first of two pioneering "hybrid" ferries has been launched by the deputy first minister from the Ferguson shipyard in Port Glasgow.
MV Hallaig is the first commercial ship in more than five years to be fully built and delivered on the Clyde.
The roll-on roll-off ferry incorporates a low-carbon hybrid system of diesel electric and lithium ion battery power.
It is the first of two vessels being built at the yard, following more than £20m of Scottish government investment.
Ministers said the cash had secured 75 jobs and created about 100 more, including 20 apprentice shipbuilders.
The vessels are said to be the world's first sea-going roll-on roll-off vehicle and passenger diesel-electric hybrid ferries.
They are being built as part of the Low Emission Hybrid Ferries Project.
The Ferguson Group is working with Glasgow-based ship design specialists Seatec and electrical specialists Tec-Source to deliver the ferries.
The project is being supported by a Scottish government loan and additional funding of £450,000 from the European Regional Development Fund.
Both ferries will be owned by Caledonian Maritime Assets (CMAL) and operated by CalMac Ferries.
The 135-tonne Hallaig is nearly 150ft long and will accommodate 150 passengers, 23 cars or two heavy goods vehicles.
It is expected to come into service between Skye and Raasay next summer, following fitting out, testing and certification.
Prestigious contract
Launching the vessel, Deputy First Minister Nicola Sturgeon said: "Today is a great day for Clyde shipbuilding, and a great day for Scotland.
"It has been over five years since the last commercial ship was fully built and delivered on the Clyde, and the launch today of the first of two new cutting-edge vessels symbolises everything that the Scottish government is striving to achieve.
"Our £20m investment has provided the support needed to produce here on the banks of the Clyde, the world's first seagoing passenger and vehicle roll-on roll-off ferries to use a low-carbon hybrid system of diesel electric and battery power."
She added: "It is a true testament to the excellence that Clydeside engineering is famous for across the globe and underlines our ambition to see our shipbuilding industry, and the local community and its economy, reinvigorated through investment in jobs."
Richard Deane, managing director of Ferguson Shipbuilders said: "We would like to say a big thank you to the Scottish government for providing the funding and also to Caledonian Maritime Assets for awarding such a prestigious contract to Ferguson Shipbuilders.
"Employment has more than doubled at the yard and we have started to train apprentices again."