Tidal energy projects share £30m in European funding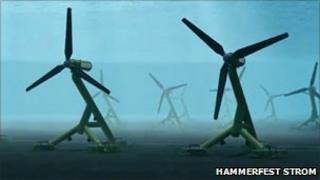 More than £30m of European Commission funding has been allocated to two renewable energy schemes planned in the west of Scotland.
An array of tidal turbines being planned for the Kylerhea straits, between the Isle of Skye and the mainland, is being allocated £15m.
And ScottishPower Renewables's plan to put a tidal array into the Sound of Islay is to receive £17m.
The money is coming from levies on polluting industries.
A total of 23 European grants are being made, worth nearly £1bn and awarded to projects ranging from Swedish biomass burning to solar power in Cyprus.
However, the Commission has turned down funding bids for carbon capture and storage, because none of the bidders have backing by private or government money.
Following the announcement, Scotland's energy minister Fergus Ewing said: "Scotland continues to lead the world in the development of green energy and this announcement reflects the potential of our natural resources and the strength of our energy capabilities.
"Scotland's focus on the development of its renewables industry is attracting significant investment to Scotland.
"The European Commission's decision to invest in two Scottish marine energy projects will deliver significant economic benefits and help strengthen the sector."
Lindsay Leask from Scottish Renewables said: "It's this kind of financial commitment that helps harness further private investment which will secure our position as a centre of global excellence for the marine energy industry for years to come."