Scottish independence: CBI Scotland urges ministers to bring forward white paper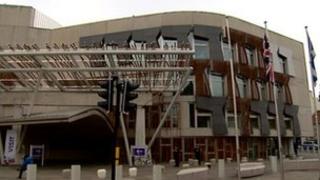 A leading business organisation has urged the Scottish government to bring forward the publication of its independence white paper.
Employers group CBI Scotland said firms needed "greater clarity and certainty" about the likely impact of the country leaving the UK.
Director Iain McMillan said many questions needed answering.
The Scottish government said the white paper would be published as planned in November 2013.
The CBI's call followed comments in a New Year message from David Watt of the Institute of Directors in Scotland, who said Scottish politicians were spending too much time on unnecessary legislation and debating independence.
He said they should instead be focussed on economic growth and particularly on ensuring improved infrastructure.
The CBI issues paper has been drawn up by the organisation's referendum working group and passed by its Scottish council.
It focuses on regulatory and taxation issues, conceding that some of the issues cannot be resolved until the Scottish government negotiates with Whitehall and Brussels institutions.
The paper challenges the Scottish government to set out the cost of setting up and running a treasury, tax authority and central bank, a welfare structure, a foreign service, armed forces, an interior ministry to handle citizenship, immigration and border control, and regulators for issues including pensions, energy, telecommunications, health and safety, takeovers and advertising standards.
There is also a challenge to ministers to give as much detail as possible on the transition to independence, including efforts being made to ensure Scotland has the expertise it requires to negotiate on issues for which Holyrood currently has no responsibility.
Currency plans
The issues paper said the Scottish government needed to set out a clearer policy on the currency it plans to use if the economy diverges from the rest of the UK.
It also asks if the government has assessed the risk of some corporate headquarters leaving Scotland, and how jobs would replace those linked to the nuclear deterrent.
Mr McMillan said: "Many business leaders will carry out an assessment of the possible impact of Scotland leaving the United Kingdom on Scotland's economy and their businesses.
"This gives rise to many questions and, as we go through 2013, a crucial year in this debate, undoubtedly further questions will arise.
"We hope very much that the white paper will address these questions in full and provide the necessary supporting evidence."
At the Institute of Directors Scotland, David Watt's New Year message said there remained opportunities amid much business uncertainty.
But he added: "The current obsession with our future governance is understandable but not helpful right now. We have more immediate challenges to face and an economy to build."
A Scottish government spokesperson said: "We are doing all we can to deliver for the business community in the areas where we have responsibility and our economic strategy makes clear that delivering sustainable economic growth is our top priority.
"A white paper publishing our proposals for independence will be published in November 2013 and we will continue to engage with all interested parties, to make sure that they are fully aware of our proposals."