Salmon exports to Far East 'at record high'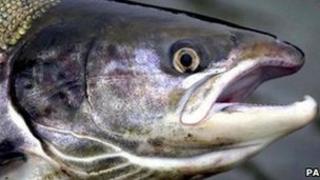 Exports of Scottish salmon to the Far East have reached record levels after a third consecutive year of increases, according to newly released figures.
A total of 8,675 tonnes of salmon were sent to emerging markets in the region in the first ten months of 2012.
The figure beat the overall total achieved for the whole of the previous year.
The data, released by Scottish salmon producers, came from HM Revenue and Customs.
The value of the exports - which include fresh, frozen and smoked products - rose from £28m between January and October 2011 to more than £37m for the same period in 2012.
The new figures were revealed one month after representatives of the seafood industry attended the largest ever Scottish food and drink trade mission to Japan and China.
During the visit, an agreement was signed with the World Association of Chefs Societies to promote Scottish salmon and langoustines to its 10 million member chefs across 93 countries.
'Phenomenal rewards'
Scottish Salmon Producers' Organisation chief executive Scott Landsburgh said: "Sales have increased more than 12-fold in three years and our market share still only represents less than 1% of the total current opportunity in the Far East.
"In the vast region even niches of niches are huge, so the rewards for finding the right opportunities can be phenomenal.
"With a rapid growth of middle classes looking for premium and healthy products, there remains plenty of scope for further market share expansion in this rapidly growing market."
Rural Affairs Secretary Richard Lochhead said Scottish salmon was "a healthy and highly sought-after product".
"The vast majority of the Scottish salmon exported to the region is fresh salmon, underpinned by its increasing popularity for use in sushi-style foods, which further demonstrates that top chefs regard it as a premium and high quality product," he added.