Shareholders back AG Barr and Britvic merger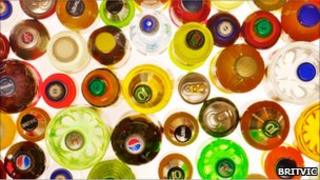 The planned merger of soft drink rivals AG Barr and Britvic has moved a step closer after shareholders in both companies voted to back the move.
It follows an all-share deal reached by the firms in November after extended talks.
The merger will give Britvic shareholders about 63% of the new company and AG Barr shareholders 37%.
The deal is expected to be tied up on 30 January, subject to regulatory approval.
The new combined company will be called Barr Britvic Soft Drinks plc and will have annual sales of more than £1.5bn, making it one of Europe's largest soft drinks companies.
The merger is likely to see about 500 jobs cut from combined headcount of just over 4,000 people.
The head office of Barr Britvic will be in Cumbernauld, North Lanarkshire, which will also be its registered office.
The new group's operational headquarters will be located at Britvic's existing head office in Hertfordshire.
AG Barr's product range includes Irn Bru, Tizer and Rubicon, while Britvic's brands include Tango, Robinsons, J2O and Fruit Shoot. Britvic also sells PepsiCo brands under an exclusive licence.