PMI survey: 'Growth mode' hopes for Scottish economy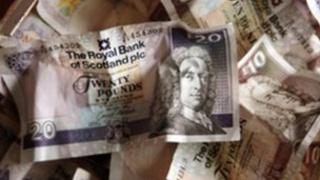 Scotland's economy may have started 2013 in "growth mode" after ending last year on a sound footing, a report has suggested.
A Bank of Scotland survey of purchasing managers indicated that output rose last month at its fastest rate since June.
Employment also rose, contrasting with a slight decline UK wide.
However, Scottish firms' operating costs rose faster than in any other part of the UK except Northern Ireland.
In December, the Bank of Scotland's Purchasing Managers Index (PMI) reached its highest mark for six months, indicating moderate growth in Scottish private sector activity.
That suggested a better overall performance than for the total UK economy, which stagnated in the final month of the year.
The bank said increased activity at service providers lay behind the expansion in output north of the border, with goods production continuing to fall.
'Moderate growth'
The level of new work placed with businesses operating in Scotland increased in December for the first time in six months.
Meanwhile, new export orders received by manufacturers rose slightly, having fallen continuously since June.
The improved trends in output and new orders prompted businesses to record the fastest rate of job creation for five months.
Bank of Scotland chief economist Donald MacRae said the figures indicated a return to moderate growth in the Scottish economy.
"The increase in new business and the rise in employment are particularly encouraging," he said.
"The pick-up in new export orders should enable a return to growth in the manufacturing sector in the coming months.
"These results give hope that the Scottish economy has exited the recent period of slowdown and is entering 2013 in growth mode."
A Scottish government spokesman said the latest PMI report showed positive improvements in Scotland's economy.
He added: "Business growth and investment will be key to securing economic expansion over the coming year and in this spending review period we are investing £10bn in capital projects, building homes, schools and facilities to support the economy.
"The Scottish government will continue to do all we can to support our businesses but we could do even more with the full fiscal and economic powers of independence to strengthen our economy and create jobs."