Babcock secures BP's £30m offshore contract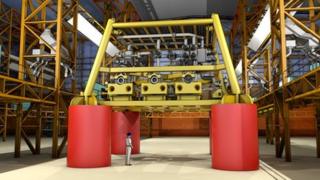 The Rosyth dockyard operator Babcock has been awarded a contract worth more than £30m to build new structures for oil fields west of Shetland.
Babcock said the BP contract, to build 74 subsea structures for the Schiehallion and Loyal fields, would secure more than 100 jobs.
The fields have produced nearly 400 million barrels of oil since production first began in 1998.
BP said new facilities have to be built to extend production until 2035.
The project (known as Quad 204) involves upgrading and replacing subsea facilities, as well as replacing the existing Schiehallion floating, production, storage and offloading vessel.
The new vessel will be 270m long by 52m wide. It will be able to process and export up to 130,000 barrels of oil a day, and store more than one million barrels.
Work will begin on the new structures in March, and Babcock said another £6.3m in sub-contractor contracts would be up for grabs during the three-year project.
'Next generation'
The Rosyth yard is also currently assembling the Royal Navy's largest ever warship, HMS Queen Elizabeth.
Mike Pettigrew, managing director of future business for Babcock, said: "Today's announcement is great news for our Rosyth facility and demonstrates our capability to operate within the offshore energy sector.
"While our commitment and focus on the delivery of the Queen Elizabeth Class programme remains unchanged, this project presents us with excellent opportunities to enhance the utilisation of our facilities and resources here on the Forth.
"This is a multi-faceted technical programme which will sustain over 100 positions and provide training and development opportunities here at Rosyth.
"In addition, we will continue to involve our apprentices in exciting and specialised areas of our operations, strengthening the skills base of our next generation of engineers."
Field life
Andrew Train, BP's Quad 204 offshore programme director described it as a "key contract".
He said: "We are looking forward to working collaboratively with Babcock and safely delivering high quality and reliable subsea structures which will help to extend the field life of the Schiehallion and Loyal fields."
The announcement has been welcomed by Fife Council.
Councillor Kay Carrington said: "This is excellent news for Babcock, Rosyth and Fife and a significant boost for the local economy.
"Babcock is fast becoming a key player in energy and renewables and this contract is an important strategic development for the company, to diversify from their traditional strengths into new markets.
"We hope that this is the first of many contracts for Babcock in these new sectors."