North Sea drilling activity 'up by a third'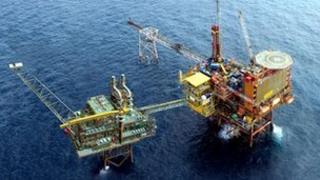 Drilling activity in the North Sea rose by a third last year, according to a new report.
Business advisers Deloitte found 65 exploration and appraisal wells were drilled on the UK Continental Shelf (UKCS), compared with 49 in 2011.
It suggested activity was boosted by a broader range of tax allowances and a sustained high oil price.
Interest in field development also reached a 10-year high, with 21 projects approved.
Eight projects involving redevelopment of older fields were also sanctioned by the Department of Energy and Climate Change (DECC).
The report by the Deloitte petroleum services group (PSG) suggested that the final quarter turned in the strongest performance of the year.
Some 29% of new wells which started over the course of 2012 were drilled between October and December.
More than 90% of new field developments in the UK were eligible for tax allowances following the 2012 Budget.
In March 2012, the Chancellor announced an increase in the small field allowance, and introduced a new allowance for large deep-water developments targeting West of Shetland.
A further new allowance for shallow water gas field developments was announced by the government in July 2012.
Deloitte PSG managing director Graham Sadler said oil firms were more confident about investing in the North Sea.
He added: "After several years of caution and uncertainty, we have a more positive environment, where a number of factors such as tax incentives, high oil price and appetite to invest have combined to make 2012 the most encouraging year for a long time.
"The government introduced a range of tax reliefs which have sufficient breadth and depth to create an environment in which companies of all sizes and investors have the confidence to take some risk and expand their operations in the North Sea."
Field deals
Last year also saw a surge in the number of oil and gas fields which were bought and sold.
Across North West Europe, 129 deals were announced - 80 of which took place in the UK.
This equates to a 30% increase on the UK's 2011 deal figure.
These were split almost equally between farm-ins - companies taking a stake in another company's field - and deals to purchase oil and gas fields.
The average Brent oil price for the fourth quarter of 2012 was $110.44, slightly lower than the average for 2012 which was $111.70.