Scottish jobs market in 'growth period'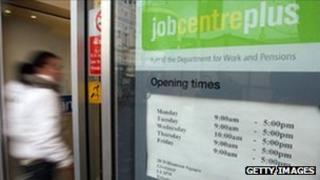 Recruitment firms have reported the strongest performance in the Scottish jobs market since May 2011, prompting hopes that Scotland's economy is entering a period of growth.
A survey of agencies by the Bank of Scotland indicated a marked rise in staff placements in December.
Scotland recorded strong increases in permanent and temporary appointments, outperforming the UK as a whole.
Recruitment agencies linked the rises to greater client demand.
Starting salaries for permanent staff reached a seven-month high in December, while average temp hourly pay saw its strongest rise since May 2008.
After adjusting for usual seasonal factors, the number of candidates placed into permanent work by Scottish recruitment firms increased in December at its fastest rate since April last year.
Temp billings also rose, registering their biggest increase for almost two years.
Demand for permanent staff continued to rise strongly in December, albeit at a slightly reduced rate than in November.
Vacancies in the temporary job market climbed at their fastest pace since May.
Overall, demand for both permanent and temporary staff increased to the greatest extent in the nursing/medical/care sector during the latest survey period.
Meanwhile, the availability of permanent staff fell markedly in December, particularly in engineering.
Bank of Scotland chief economist Donald MacRae said: "These results suggest the Scottish economy has exited the recent period of slowdown and is entering 2013 in growth mode."
Labour market statistics released in December showed unemployment in Scotland fell by 19,000 to 204,000 between August and October.
However, employment in Scotland fell by 27,000 over the same quarter.
The Scottish unemployment rate currently stands at 7.6%, below the UK average of 7.8%.