Fife Council inquiry urged as Lomond Homes folds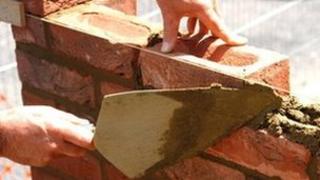 Fife Council's chief executive has been asked to investigate alleged leaks of confidential information to the press, following a building firm's collapse.
Glenrothes-based Lomond Homes entered administration this week, owing the council nearly £500,000.
SNP group leader Peter Grant claimed information about the firm may have been leaked to the press.
He said whoever was responsible could have killed off any chance Lomond had of keeping out of administration.
He also claimed it could have "seriously dented" the chances of the company's creditors, including Fife Council, getting their money back "any time soon".
Earlier this week Fife Council issued a demand for the housebuilder to pay outstanding charges of just under £500,000.
PwC was appointed as administrator to Lomond Homes Limited on Thursday.
'No employees'
The company currently holds land in Fife and Clackmannanshire with planning permission for development, but the business has only one completed house in Lochgelly for sale.
Graham Frost, business recovery services director at PwC, said: "The directors have reduced the scale of the business in recent years to the extent that there are no employees and almost no construction activity being undertaken at present.
"Over the coming days, we will review the position of the land bank with a view to realising value for creditors."
Responding to the news, Mr Grant said he wanted to find out more about planning applications involving Lomond Homes that had led to such high debts.
'Deliberate leaks'
But he added he was even more concerned that someone had "deliberately leaked confidential information" about Lomond Homes to the press on at least two separate occasions.
"Whether both leaks came from the same person or from different people, this double breach of trust could seriously undermine the willingness of the business community to share confidential information with the council in the future," he said.
"The press had every right to check out the story and then publish it, but whoever was behind the leaks needs to be identified and very severely dealt with.
"In the often brutal world of business survival, when a company is struggling the last thing they need is for full details of their plight to be made public, yet it seems that someone in Fife Council has decided to do exactly that.
"We can only speculate as to what on earth they thought this would achieve but they weren't acting in the best interests of the council, they weren't acting in the best interests of the people of Fife and they certainly weren't acting in the best interests of the company."
He added: "This is an exceptionally serious and deliberate betrayal of trust and I have asked the chief executive to investigate it as a matter of urgency."
Fife Council chief executive Ronnie Hinds confirmed he had been asked by Mr Grant to investigate the alleged leaking of information over Lomond Homes' administration and the outstanding debt relating to agreements with Fife Council.
He added: "I have written to Councillor Grant requesting further details regarding this matter.
"In the meantime we intend to engage with the administrators appointed to Lomond Homes in a bid to retrieve funds owed to the council."