Clyde Blowers buys power generator Parsons Peebles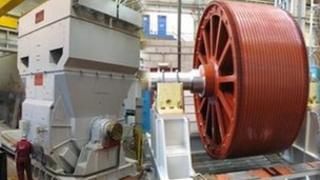 Clyde Blowers Capital has added a new business to its portfolio by buying a Rosyth-based engineering company.
The East Kilbride firm bought Parsons Peebles Generation from Patersons Quarries for an undisclosed sum.
Parsons, which was founded more than 100 years ago, specialises in power generation and motors.
Clyde Blowers said the move was part of continuing investment in "mission-critical" engineering firms serving the oil and gas, power and mining sectors.
Chairman and chief executive Jim McColl said: "I am pleased to welcome Parsons Peebles Generation Ltd into our portfolio of companies.
"For over 100 years, the business has demonstrated that it has an outstanding track record of designing high quality electric machines for customers across a wide range of industries.
"We believe that this heritage, complemented by a highly skilled workforce, will provide us with a strong platform to significantly grow both market share and profitability."
Past acquisitions
Clyde Blowers has made a number of acquisitions in recent years.
In May 2007, it bought Weir Pumps (Glasgow) from the Weir Group and folded it into a new company, Clyde Pumps Ltd.
The following year, Mr McColl led the largest transaction in Clyde Blowers' history by buying the fluid and power division of Textron Inc, an American Fortune 500 multi-industry company, in a deal worth over $1bn.
Other acquisitions have included Moventas - a Finnish firm which makes parts for wind turbines - which was bought for £85m in November 2011.