Scottish hotels outperform rest of UK, says PKF report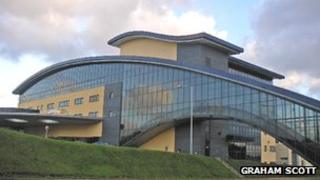 Scottish hotels recorded higher occupancy rates and revenues than any other part of the UK in November, according to new figures.
But performance varied widely between Scottish cities.
The report by business advisers PKF suggested strong occupancy rates in Glasgow and Aberdeen compared to Edinburgh and Inverness.
PKF said the hospitality sector was "continuing to experience a bumpy ride on the economy's broken tarmac".
The firm's monthly hotel survey indicated that Scottish hotel occupancy fell 0.3%, compared to a 0.1% fall in regional UK and a 0.6% drop in England. The rate rose 2% in Wales.
However, the actual occupancy rate in Scotland was 70.7% - the highest figure of any part of the UK.
The average rooms yield of £48.21 also led the rest of the UK.
However, there were substantial differences between Scottish cities.
In Glasgow and Aberdeen, occupancy was 80.9% and 80.2% respectively, while the Edinburgh figure was 69.7% and Inverness was 58.9%.
Revenue in Aberdeen was £63.96, while in Glasgow it was £56.32 during November. In Edinburgh, revenue was £49.58 and, in Inverness, it was £28.70.
Alastair Rae, from PKF, said: "Whilst the figures for occupancy and revenue in Scotland are positive compared to the rest of the UK, it is clear that some parts of the country are doing better than others."
Mr Rae said a 15.3% revenue increase in Glasgow could partly be explained by the city hosting a major bi-annual HIV international conference, while Aberdeen continued to benefit from activity in the energy-related conference and exhibition market.
"Edinburgh and Inverness, with their high dependence upon the leisure market, both suffered from reduced occupancy levels, although the capital managed to improve on revenues for the month," he added.
"The hospitality sector is continuing to experience a bumpy ride on the economy's broken tarmac, stumbling along without any clear indication of the direction of travel.
"Discretionary spending remains tight, employment security is of concern and consumers are battered by daily bad news."