Scottish firms downbeat on future growth prospects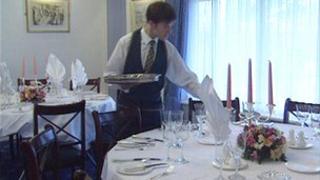 Scottish firms expect to see little improvement in trading conditions in the first half of this year, according to a new survey.
The Scottish Chambers of Commerce (SCC) report suggested activity continued to be weak in much of the Scottish economy over the final quarter of 2012.
It found "limited signs" of improvement in manufacturing and construction, but not in the service sector.
SCC said it highlighted the need for support from Scottish and UK ministers.
It called for both governments to "maintain a clear focus on tackling the barriers to growth" and support business through a prolonged period of below-trend growth.
'Poor expectations'
Garry Clark, head of policy at SCC, said many Scottish businesses continued to experience difficult trading conditions and anticipated little change in the first half of 2013.
"Whilst there have been marginal improvements in performance and outlook for a number of businesses across the manufacturing and construction sectors, this is against a background of poor expectations at the end of summer 2012," he said.
"The reality is that, in most cases, expectations are little or no better than they were a year ago."
Mr Clark argued that the retail and tourism sectors continued to suffer from weak consumer demand, leading to extensive discounting and rate-cutting together with outlets closing.
He added: "Debates over the potential for a 'triple dip recession' in 2013 are unhelpful.
"Unfortunately for many Scottish businesses, activity in 2013 is more likely to reflect an economy bumping along the bottom of a recession rather than one in real recovery mode."
On Tuesday, a survey by CBI Scotland suggested Scottish manufacturers faced a further weakening in orders and output around the turn of the year.
It found export orders in the sector fell for the first time in three years, while domestic orders declined for the seventh successive quarter.
However, the research also suggested there were modest signs of improvement over the next three months.