Raided Edinburgh jeweller Rox upgrades security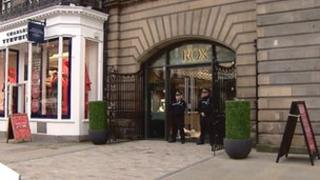 Rox is to spend £50,000 on upgrading security at its Edinburgh store, following an armed raid which netted £1m worth of jewellery last week.
The news came as police continued to hunt for two men who took part in the robbery at the Rox store on George Street.
Rox said it had now employed a full-time security guard and installed a smoke cloud system as a deterrent.
It is also operating a round-the-clock "lock door policy".
A spokesman for Rox said: "The safety and well-being of our staff is our utmost priority at all times and following the armed robbery that took place last week, we are investing £50,000 in additional security for our Edinburgh store to deter burglars and give staff, who are still badly shaken, extra peace of mind."
Rox said its "highly sophisticated" new smoke cloud system released a heavy fog which reduced visibility when activated.
"Smoke cloud systems have been used to great success by other luxury jewellers across the UK who have previously been targeted in smash and grabs, and we are prepared to do whatever it takes to ensure the safety and well-being of our team," the company added.
Witnesses appeal
Earlier, police appealed for witnesses after two men threatened staff, ransacked the shop and made off on a motorcycle.
The incident occurred at about 17:15 on 15 January.
Detectives said the men may have taken a taxi after dumping their getaway motorbike.
Their black Honda 650 motorcycle was found abandoned in Northumberland Street, North West Lane, along with the axe.
One of the robbers had a local accent and the other was said to be English. Both wore dark tops and jogging bottoms.