Lloyds Banking Group to shed 135 Scottish jobs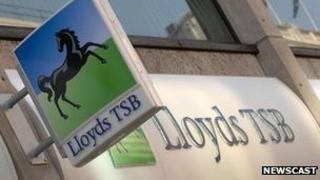 Lloyds Banking Group has announced plans to shed 135 jobs from its Scottish operations.
A further 70 posts will be transferred to outside suppliers, including branch cleaners and cash handling.
Most of the job losses involve customer and product managers in the branch network of Bank of Scotland.
They are among 940 posts Lloyds is cutting following a major restructuring announced in 2011, which will see the loss of a total of 15,000 jobs.
The bank maintained it would try to avoid compulsory redundancies.
In a statement, it said: "The group's policy is always to use natural turnover and to redeploy people wherever possible to retain their expertise and knowledge within the group.
"Where it is necessary for employees to leave the company, it will look to achieve this by offering voluntary redundancy. Compulsory redundancies will always be a last resort."
'Complete disgrace'
The union Unite reacted angrily to the job cuts.
National officer Dominic Hook said: "Since 2009 Lloyds has slashed a quarter of its workforce. It is a complete disgrace that the bank, which is 41% owned by the taxpayer, continues to cut jobs in such a cavalier way.
"The bank is even offshoring another 200 IT jobs.
"In the middle of an economic crisis, a bank part-owned by the public should be keeping jobs in the UK, not exporting them abroad."