McDonald's to create 200 Scottish jobs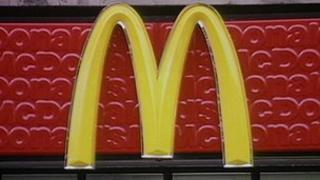 Fast food chain McDonald's has announced plans to create 200 new jobs across Scotland by the end of this year.
The company said the move was the result of incremental business growth and ongoing investment in its outlets.
The new staff will be added to existing restaurants.
According to MacDonald's, the company currently employs about 7,000 staff across a total of 94 outlets in Scotland.
The new Scottish posts are among at least 2,500 jobs McDonald's plans to create in the UK this year, taking its total workforce to 93,500.
Last year, 70% of new positions in McDonalds were given to people aged under 21.
McDonald's UK chief executive Jill McDonald said: "These remain challenging economic conditions but I'm pleased that, together with our franchisees, our continued focus on serving quality, affordable food and giving our customers a great experience is enabling us to keep investing in our business and creating jobs."
The jobs announcement came as official figures showed unemployment in Scotland fell by 14,000 to 207,000 between September and November.
However, the number of people in jobs also dropped by 24,000 over the three-month period.