Sales increase for Scotch whisky firm Diageo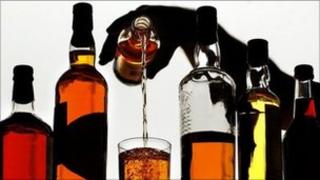 The biggest distiller of Scotch whisky, Diageo, has reported strong sales growth in the second half of last year.
Volumes were up 6%, with their value rising by 10%.
Led by the Johnnie Walker brand, the rise was led by a big growth in emerging markets, including China, Mexico and South Africa.
That offset a sharp fall in Scotch sales, particularly the J&B brand, in France, Spain and Greece.
Speaking to the BBC, Diageo's chief executive, Paul Walsh, said it was important for Britain to remain in the EU.
"Our goal is to get Europe broadly flat in aggregate and we haven't quite made it in this set of numbers," he said.
"The piece that's holding us back is southern Europe.
"I support the fact that our prime minister said we should stay in Europe.
"We are a trading company. We must stay in Europe, we must position Europe for the future, which is more competitive, less regulation."
Diageo, which also owns Guinness and Smirnoff, announced pre-tax profits for the half year to the end of December 2012 of £1.96bn.