SSE agrees to sell four wind farms for £140m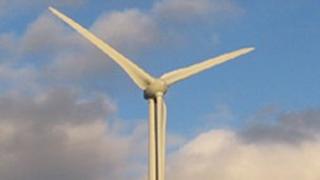 Energy giant SSE has agreed to sell four wind farms in Scotland and Northern Ireland to a new fund run by an investment management firm.
SSE said Greencoat Capital would pay £140m for the wind farms, which have a total generation capacity of 79.5MW.
They are Braes of Doune and Carcant in Scotland and Tappaghan and Bin Mountain in Northern Ireland.
The agreement is dependent on the Greencoat fund successfully listing on the London Stock Exchange.
As part of the deal, Perth-based SSE will sign power purchase agreements for three of the wind farms.
It will continue to operate and maintain all four involved in the sale.
In a stock market announcement, SSE said it would invest up to £43m of the cash it receives from the deal into shares in the new Greencoat Capital fund.
It added that the sale would go ahead if Greencoat successfully listed on the stock exchange and raised the required capital.
That process is under way and is expected to be completed by the end of March.
The disposals would leave SSE with 1,351MW of onshore wind farm capacity in operation in Great Britain and Ireland.
'Latest step'
SSE finance director Gregor Alexander said: "This agreement represents the latest step in a programme of acquisitions and disposals to optimise our wind farm portfolio.
"The proceeds from these disposals will support our investment in new renewable assets in the coming financial year and, in line with our commitment to financial discipline, represent an excellent example of SSE creating ongoing value from its investment pipeline while improving the liquidity of the market for investment in new renewable developments."
In July 2011, a bid by SSE to sell its 36-turbine Braes of Doune wind farm near Stirling fell through.
The company had agreed to sell its 50% interest in the wind farm to a fund managed by Climate Change Capital for £61.3m.
However due to market conditions at the time, the fund decided not to raise the money to buy the farm.