Scottish retail sales dip after period of growth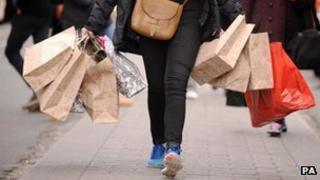 Shop sales dipped in the final quarter of 2012 but grew over the year as a whole, according to figures released by the Scottish government.
The Retail Sales Index indicated that volumes fell by 0.5% in the last three months of the year, compared with a drop of 0.4% in Great Britain.
Without adjusting for inflation, Scottish sales showed zero growth in value for the second quarter in a row.
Over the year, volumes grew by 0.7% while the value of sales was up 1.1%.
Finance Secretary John Swinney said: "The retail sector can be assured that this government is doing all we can to maintain Scotland's position as the most supportive business environment in the UK.
"The Small Business Bonus Scheme (SBBS) and other reliefs combined give Scottish business a real competitive edge - they are worth more than £500m annually and benefit two out of every five commercial premises in Scotland.
"Added to this, our support for the social wage with a council tax freeze is helping to put money in people's pockets and is supporting hard pressed households," he added.
Concern 'remains'
Reacting to the figures, the Scottish Conservatives said concern remained over the health of Scotland's retail industry.
Finance spokesman Gavin Brown said: "The Scottish government failed to walk the talk when it comes to the economy and creating jobs.
"It has imposed a Scotland-only retail levy, the empty properties tax and has increased the tax burden on businesses substantially."
Figures released last month by the Scottish Retail Consortium showed sales matching UK figures for the first time in nearly two years.
A 1.5% increase on the previous December was driven by non-food sales, which recorded their best performance since March 2011.
At the time, SRC described the figures as a "relatively good result" at the end of a "relentlessly tough year".
'Restrained spending'
Euan Murray, from Barclays Corporate Banking, said higher sales over the Christmas period failed to counter the restrained consumer spending seen through most of the last quarter of 2012.
He added: "Early discounting put pressure on retailers to sell more and those who failed to appropriately marry online with bricks and mortar felt the impact.
"Despite the challenging start to 2013, with talk of a triple dip recession and a number of high street failures, the outlook for retailers is not all doom and gloom.
"There are strong opportunities in the click and collect space, and importantly consumer confidence appears to be on the rise."