One in 10 Scottish shops lying empty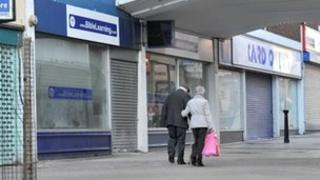 One in 10 shops is lying empty on Scotland's high streets, a survey by the Scottish Retail Consortium (SRC) has suggested.
Figures showed 10.2% of store sites in Scotland were vacant in January, up from 9.1% in the same month last year.
SRC director Fiona Moriarty said the government should act to "stem the tide of further closures".
The Scottish government said its Fresh Start scheme was aimed at finding uses for vacant properties.
Ms Moriarty said: "It's not so easy to find a chink of light in the Scottish vacancy rate, which has edged up again to the point where more than one in 10 shops are now lying empty in our town centres.
"If the Scottish government wants to stem the tide of further closures, it should act now to abate the rising costs of doing business on our high streets in Scotland.
"Unfortunately the government failed to act on business rates this year which means that retailers will be hit by an additional £20m in tax.
"This comes on the back of a cut in empty property rates relief whilst some larger supermarkets in Scotland are faced with a rates bill which is 28% higher than the same store south of the border."
A spokesman for the Scottish government said they wanted "to see thriving town centres and is doing all it can to support the retail sector".
The statement added: "We are introducing measures such as our Fresh Start scheme to bring empty properties back into use and our Town Centre Review is tackling some of the long-standing issues by working with local councils to put the life back into our High Streets.
"In these tough times we are maintaining Scotland's position as the most supportive business environment in the UK and our Small Business Bonus Scheme and other reliefs, provide zero or reduced business rates for 63% of shops in Scotland.
"We are putting money into people's pockets and supporting household incomes with a council tax freeze, the living wage for public sector workers and investing as much of our own money as possible into public projects to create jobs."
The figure in Scotland is lower than the UK national town centre vacancy rate of 10.9% and significantly lower than both Northern Ireland and Wales, where 17.2% and 17% respectively.