Glasgow firm Weir Group reports record profits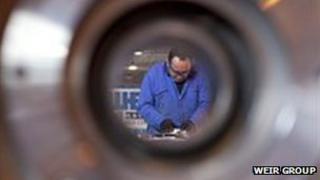 Glasgow engineering firm Weir Group has reported record annual pre-tax profits of £443m.
The company said a 12% profit rise for the year was underpinned by a good performance by its minerals division.
It described its oil and gas arm's performance as "resilient", thanks to positive contributions from acquisitions.
Weir also said cost efficiencies helped it achieve a record year, which saw revenue up by 12% to more than £2.5bn.
Weir Minerals, which specialises in supplying slurry handling equipment, was boosted by continued demand growth in Chinese and emerging markets for key commodities such as copper
Weir Oil and Gas saw Middle East services markets grow strongly, with increased Saudi production and the ongoing rebuilding of Iraqi oilfield infrastructure.
Weir Power and Industrial, which designs and manufactures valves, pumps and turbines, reported strong profit growth, despite a "relatively subdued" global power sector.
Weir recently made three acquisitions in three different countries.
It bought a Canadian rubber lining firm and foundries in Malaysia and South Africa at a total cost of £55m.
Weir said they would "enhance the group's presence in important growth markets".
'Challenging markets'
Weir Group chief executive Keith Cochrane, said: "Weir delivered a strong performance for shareholders in 2012 despite challenging pressure pumping markets.
"We responded rapidly to changing market conditions, realigned capacity, reduced costs in affected areas and continued to maximise operational and cost efficiencies.
"This allowed us to deliver 2012 results in line with our mid-year expectations."
Looking ahead to 2013, Mr Cochrane forecast that the group would continue to deliver profitable growth, in part through new product introductions.
He added: "Assuming a gradual economic and end market improvement, we expect to deliver low single digit revenue growth and broadly stable margins in 2013 with lower first half profits offset by growth in the second half."