Engineers in Scotland report drop in orders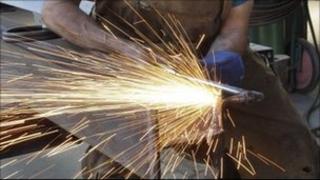 Engineering firms in Scotland have reported a fall in orders and output but they remain optimistic about their fortunes.
A survey from the trade body Scottish Engineering found the fall in output was the first in more than two and a half years.
However, many of the companies surveyed said they had plans to invest.
Employment levels also continued to grow for small and medium-sized companies but not for larger firms.
Skills shortages have been a constant concern for the engineering sector.
Bryan Buchan, chief executive of Scottish Engineering, said: "Throughout the country there are unfilled vacancies for engineers in various skills from machine operators to design engineers.
We plan to initiate a range of activities to actively address this major inhibitor to our growth."
Mr Buchan said companies were confident their fortunes would pick up in the near future.
He said: "While it is apparent that order intake has softened, optimism remains positive, as do forecasts for the next three months in terms of trading outlook."