Stirling insulation firm Superglass issues debt warning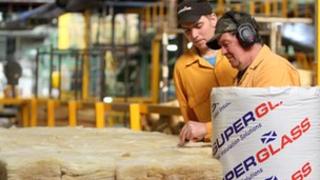 Stirling insulation firm Superglass has seen its share price fall by more than 50% following the news that it may not be able to repay its debts.
The company has warned that low levels of housebuilding and delays to the government's Green Deal have reduced demand for insulation.
Superglass said if current market conditions continued it would not be able to repay £8.2m of debt by 2016.
But it added that a turnaround plan, launched last year, was still on track.
Superglass said the first phase of Project Phoenix would be completed in April 2013.
The scheme, along with other cost-saving measures, is expected to reduce the company's operating costs by £5m.
Debt issues
Superglass's board said that once the savings had been achieved the firm could be run at an operating profit in the future, even given the current depressed market for insulation.
But it warned that £8.2m worth of debt repayments are scheduled to begin in November. They are due to be paid over the three years to November 2016.
The board said that "for so long as market conditions remain as they are now, these debt service obligations will be unsustainable".
However, Superglass said there were grounds for optimism. It expects a gradual increase in UK housebuilding activity from 2014 onwards as government schemes come online, and that demand will pick up when the Green Deal initiative became fully operational.
Superglass is now considering "all options" to strengthen its balance sheet, including the potential for a further equity issue.
The news saw the firm's share price fall by more than 50%, from 11.38p at the close of trade on Tuesday to 5.58p within the first hour of trading on Wednesday.