Glasgow-based power firm Aggreko sees profits grow by 11%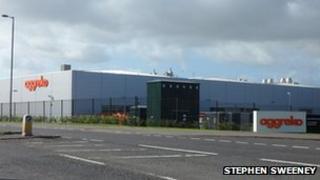 Temporary power firm Aggreko has reported pre-tax profits of £367m, an increase of 11% on 2011.
Aggreko credited a strong performance in North America, 30% growth in emerging markets and "flawless execution of London Olympics".
Underlying revenues grew by 14% to £1.6bn after exceptional items.
The Glasgow-based group said it had a very strong start to the year, with almost 20% more power on rent than a year ago.
The firm, which manufactures generators, said both of its divisions had performed well.
'Record year'
Underlying revenues for the local business part of the business grew by 13% last year, but Aggreko's Power Projects section saw underlying revenues rise by 15%. Its trading margins were 33%, six points lower than 2011.
Chief executive Rupert Soames said: "2012 was another record year. Our revenues were up 20%, our trading profit was 13% and our earnings per share was up 16%, so from that point of view it was very satisfactory.
"It was also a year with some marquis events, notably the London Olympics where we provided the temporary power and it was very exciting for us, because in 2012 we opened our new factory in Dumbarton."
Aggreko, had issued two profit warnings at the back end of last year, citing lower sales on the back of military spending cuts in Afghanistan, a lack of major events during 2013 and uncertainty over some Japanese contracts.
Mr Soames added: "We had a great year in 2012, we had a lot events like the Olympics.
"We've also got our military business dropping off as the US military withdraws from Afghanistan and also after the Tsunami in Japan we put a lot of power there, and over the course of the next couple of years we see that running off.
"But underlying that, the business is still going to grew quite strongly next year."
The company said its expectations for the year as a whole remained unchanged from previous guidance, as trading continued to be subdued in Power Projects and is likely to remain so for the first half 2013.
However, it added there had been some recent improvement in the prospect pipeline.