Bank survey suggest Scots economy in 'growth mode'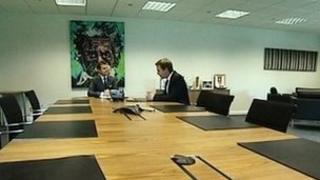 Scotland's economy has started 2013 in "growth mode" and is avoiding a triple-dip recession, a report has suggested.
The Bank of Scotland's latest purchasing managers index (PMI) suggested the private sector continued to improve in February.
It said firms saw solid growth in both business activity and the amount of new work coming in, contributing to further job creation north of the border.
In February, the PMI was the highest it has been for the past eight months.
The Scottish government described the further expansion of Scotland's private sector as "very welcome".
The PMI is based on data from monthly replies to questionnaires sent to purchasing executives in about 600 manufacturing and service sector companies.
Donald MacRae, chief economist at Bank of Scotland, said: "February's PMI rose to an eight-month high, signalling continuing improvement in output and business activity during the month.
"The manufacturing sector recorded a modest rise in employment while services maintained job numbers. The increase in new orders both in the domestic economy and for exports is particularly welcome.
"These results provide further evidence that the Scottish economy is avoiding a "triple dip" and has started 2013 in growth mode."
Fuel prices
The survey showed private sector firms continued to take on extra staff in February, the third month in a row the research has found this.
But in contrast with the trend in recent months, it was manufacturing firms rather than those in the service sector who led the increase in employment.
Looking at business activity, the report said there had been a "solid and slightly accelerated expansion" last month.
Scottish firms also recorded rising levels of new business for the sixth month in a row in February.
But the report also said cost burdens increased "markedly" last month, saying the rise in operating costs was the sharpest experienced since last September.
This was largely due to rising fuel prices, although some firms also reported higher labour costs.
February also saw a decrease in factory output, making it the eighth month in a row this had fallen. But the report said the pace of this decline eased for the second consecutive month.
A Scottish government spokesman said: "We are supporting growth by investing in jobs, training and ensuring we have the most competitive business environment anywhere in the UK.
"Our budget includes a tax relief package for business worth over £540m this year and we are bringing forward a further £385m package of economic stimulus to support jobs across the country.
"The Scottish Government is taking action where we can, and we are seeing results, but there is so much more that we could be doing with the full economic and fiscal powers of independence to strengthen our economy and create jobs."