Scottish house sales: Rics survey suggests 'cautious optimism'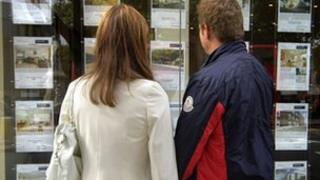 The number of houses sold in Scotland increased last month, according to a survey of chartered surveyors.
The Royal Institution of Chartered Surveyors (Rics) report said its members were "cautiously optimistic" that this trend would continue.
Almost a quarter (24%) more respondents said new sales had risen rather than fallen.
There was also an increase both in the number of homes coming onto the market, and in potential buyers.
Even so, the number of properties available remains at historically low levels, the survey warned.
Scottish chartered surveyors also continued to report drops in prices, as a net balance of 12% more respondents claimed that prices had dipped.
'Positive signs'
However, they predicted prices would continue to stabilise over the coming three months as confidence gradually returns to the housing market.
Sarah Speirs, director of Rics Scotland, said: "It's encouraging to see that the housing market now appears to be picking-up across most parts of Scotland despite ongoing concerns about the health of the economy.
"Activity is still well down on its pre-crisis norm, however, it is running at its best level since the middle of 2010 and we are seeing some positive signs."
Thomas Baird, of Select Surveyors in Glasgow, said the number of Home Report instructions it had received had remained steady.
He added: "We are now preparing to enter into a busier turn of the year and expect the number of survey instructions to follow suit.
"Overall we are finding the market steady and expect valuations to increase slightly overall this year."