Cairn Energy moves into Senegal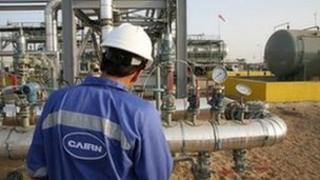 Edinburgh oil and gas explorer Cairn Energy has announced a fresh deal in Senegal.
The news came as the company revealed it had cut its full-year operating losses to $194m (£128m).
Cairn has been hit with unsuccessful exploration costs.
However the group said it was in a "cash rich" position and increased its forecast for the number of barrels of oil it expects from its Greenland operations.
The company's chief executive Simon Thomson told BBC Radio Scotland: "From Cairn's perspective we're about creating a balanced portfolio and to enable us to do that we've ensured we have a strong cash position.
"We've got over $1.5bn (£1bn) of cash on the balance sheet and in addition the value on our shareholding in Cairn India which is worth just over $1bn (£660m)."
He added: "For us it's all about getting ourselves in the right place to be able to pursue exploration-led activity."
Earlier this year Cairn said it was to focus its drilling efforts in 2013 in the North Sea, and off the Atlantic coast of Morocco.
'Attractive addition'
Senegal has now been added to that programme and the company said it represented "a highly attractive addition to our existing Atlantic Margin portfolio".
The oil exploration and production firm is to wait until summer 2014 before re-starting its controversial drilling efforts in Greenland waters.
That operation, in the Pitu field, has been strongly criticised by environmentalists.
Cairn has worked there in partnership with Norwegian energy company Statoil.
Mr Thomson said Cairn was still confident of success in Greenland.
He announced an upgrade on prospective resources, from 700 million barrels to about three billion barrels.