Scottish unemployment falls by 4,000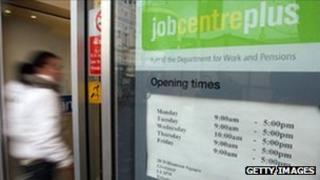 Unemployment in Scotland fell by 4,000 to 200,000 between November and January, according to the latest official statistics.
The fall contrasted with a rise of 7,000 for the UK as a whole.
The Scottish unemployment rate is now 7.4%, which is below the UK figure of 7.8%.
Data from the Office for National Statistics (ONS) also showed that employment rose in Scotland by 19,000 over the three-month period.
The number of people in jobs now stands at 2,483,000.
There was a rise of 300 in the number claiming Job Seeker's Allowance between January and February.
That total now stand at 137,700, which is down by 5,200 on a year ago.
The youth unemployment rate fell to 17% in Scotland compared to 20.6% for the UK as a whole.
'Welcome improvement'
Finance Secretary John Swinney described the figures as a "welcome improvement" in the labour market in Scotland.
He said: "Our headline unemployment rate is now at its lowest level for over three years.
"Employment is on the increase and our employment rate is the fifth joint highest of the UK nations and regions.
"Scotland now has a lower headline unemployment rate and higher youth employment rate than the UK as a whole."
Scottish Secretary Michael Moore said the rise in Scottish employment was "good news".
"This government will continue to ensure helping people into sustainable, long-term opportunities is a priority," he said.
"We are determined to rebalance our economy and create stability, which is the key to creating jobs across Scotland in future.
"The policies we have put in place are geared towards growth."
Scottish Labour finance spokesman Ken Macintosh welcomed the increase in employment but said "the big story" behind the figures was the increasing number of Scottish women registered as economically inactive.
"Female unemployment is heading in the wrong direction, a trend compounded by the SNP's decision to cut college places for adults which disproportionately affects women trying to get back into work," he added.
Jobs website totaljobs.com said the labour market in Scotland had continued to improve, but at a marginal rate.
Regional manager Steve Clark added: "What little job creation there has been over the last few months has largely been based on government training schemes, part-time work and self-employment."
Scottish Trades Union Congress general secretary Grahame Smith said the statistics represented "better news than recent months".
He added: "However, before anyone gets too carried away some points have to be stressed: the fall in unemployment and rise in employment was driven entirely by men moving into jobs; women's unemployment actually increased and employment fell.
"Also given the lag in Scottish data, there is no way of assessing the quality of employment created in the last quarter."