Aberdeen firm FirstGroup sells off depots for £80m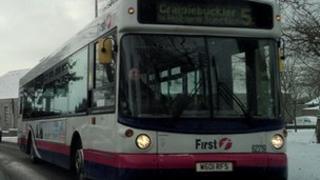 Transport company FirstGroup has sold off eight of its London depots in deals worth a total of £80m.
The firm said it had sold five depots to London bus operator Metroline and a further three bases to Australian transport group Transit Systems Group.
Both deals are subject to regulatory approval.
The move was announced as FirstGroup reported overall trading for the year to the end of March was in line with management expectations.
The Aberdeen-based firm said it was continuing to strengthen the business for the future , despite "challenging economic conditions".
In a trading update, FirstGroup said: "We are working through our comprehensive plan to recover performance and equip our UK Bus business to achieve sustainable revenue and patronage growth, and are seeing early positive signs in some of our markets.
"During the period we achieved steady growth with like-for-like passenger revenue expected to increase by 2.4%.
"As previously stated, we expect the full-year operating margin to be approximately 8%."
The company said its Greyhound business was being affected by "continuing softness" in the US economy, but added it expected like-for-like revenue for the year to increase by 1.1%.
It added: "During the period we expanded our popular Greyhound Express product to new markets in British Columbia, Florida, Illinois, Kentucky and Tennessee.
"The Express service complements our national network, the only one of its kind, which is uniquely placed to support the launch of new routes by providing sustainable passenger flows."