Registry Trust: Fewer debt judgments against firms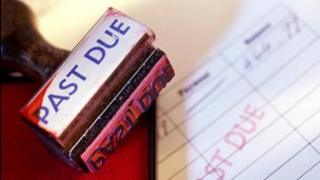 Almost 1,000 fewer debt judgments were issued against Scottish businesses last year, according to figures released by a non-profit organisation.
Registry Trust said the number of judgments fell from 6,062 in 2011 to 5,075.
The overall amount of business debt fell slightly from £28.6m in 2011 to £27.6m.
Its latest statistics also showed that the average value of business debt was £5,437 last year.
Meanwhile, the combined value of debt judgments faced by Scottish consumers fell by nearly a third in 2012.
The number of judgments also fell - from 25,857 in 2011 to 22,378 last year.
The average judgment award dropped from £3,582 to £2,878.
Registry Trust collects information on small claims, summary decrees and ordinary causes in Scotland for credit reference and public information purposes.
Registry Trust chairman Malcolm Hurlston said: "Falling judgment numbers may not necessarily mean there is less debt overall.
"Taking a debtor to court is just one of a number of options available to a creditor.
"It is noteworthy that creditors are finding it worthwhile to pursue smaller sums from consumers in the courts."