Master builders: Outlook 'bleak' for Scottish firms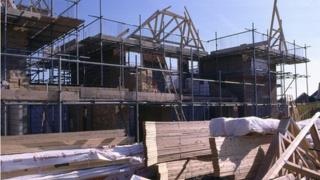 The outlook for small Scottish building firms is "significantly worse" than the rest of the UK, according to a survey.
The Federation of Master Builders (FMB) said falling workloads and rising costs had forced many companies to scale back their operations in the first quarter.
Its survey suggested Scottish firms were more negative about expected workload and inquiries than companies in England, Northern Ireland and Wales.
However, Scots firms were less negative than they were in the previous quarter.
The FMB said costs kept rising in the first three months of this year as workloads continued to fall.
The survey suggested about 30% of firms across the UK had shed staff, with 26% of companies anticipating that workloads may begin to pick up again in the next few months.
'Minimal margin'
FMB director for Scotland, Grahame Barn, said all work, especially in the domestic repair, maintenance and improvement market, was very price sensitive.
"To secure work our members are working on minimal margin - if any at all," he said.
"This does not give them any confidence over the short to medium term. This in turn impacts upon employment and apprenticeship places.
"Add to that increasing material and labour costs and the picture for the next quarter remains bleak."
Mr Barn called on the UK government to urgently review the 20% rate of VAT on domestic repair, maintenance and improvement work.
He added: "This has become a charter for rogue builders and the informal economy is hampering legitimate businesses."