More people found jobs in Scotland in March, Bank of Scotland reports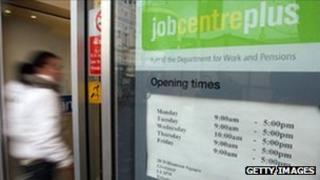 The number of people who found jobs in Scotland grew last month, according to a survey of recruitment firms.
The latest Bank of Scotland Report on Jobs indicated a rise in both permanent and temporary placements.
The increase in the number of permanent appointments more than reversed a fall reported in February.
The bank's chief economist said it reinforced the view that the Scottish economy was continuing its slow recovery from recession.
The report suggested that the rise in placements generally reflected greater demand for staff.
Growth in demand for permanent staff was only marginal and little-changed from February's 13-month low.
Temp vacancy growth slowed for the second month in a row, according to the survey.
Aberdeen posted the strongest rise in permanent appointments in March, but it was also the only region to record a reduction in temp staff billings.
Dundee-based recruitment consultancies recorded the greatest improvement in candidate availability for both the permanent and temporary job markets.
IT and computing
Permanent salaries increased at the fastest rate in Aberdeen, while the strongest rise in temp hourly pay was posted in Glasgow.
Only four out of eight employment sectors reported a larger number of permanent job vacancies in March, led by IT and computing.
Two sectors - accounts and financial and secretarial and clerical - both saw strong monthly declines.
Demand for temps fell in three employment sectors - with hotel and catering posting the sharpest fall.
Bank of Scotland chief economist Donald MacRae said the survey showed a welcome rise from the low of the previous month.
"The number of people appointed to both permanent and temporary jobs rose while the number of vacancies increased," he said.
"These results reinforce the view that the Scottish economy is continuing its slow recovery from recession."
The Report on Jobs is compiled by Markit and is based on a monthly survey of more than 100 recruitment and employment consultants.