Scottish Coal: Efforts to save mining jobs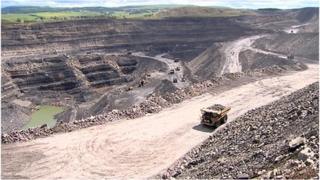 Work is continuing to secure a future for parts of one of Scotland's biggest coal-mining firms after it collapsed with the loss of almost 600 jobs.
Scottish Coal, which operated six open cast mines in East Ayrshire, South Lanarkshire and Fife, has been put into liquidation.
Liquidators KPMG said it was possible mining could continue and offer prospects for at least some staff.
Energy Minister Fergus Ewing said there was interest in parts of the business.
Falling coal prices and rising operational costs have been blamed for causing losses and "significant cash flow pressures".
Announcing a total of 590 redundancies, KPMG said that despite significant efforts in recent months, Scottish Coal had been unable to secure the level of investment required to enable the business to continue.
Scottish Coal is part of the Scottish Resources Group which announced last month that 450 staff were being put on notice of redundancy.
A fellow subsidiary company, Castlebridge Plant Limited (CPL), has also been placed in administration. Together with CPL, Scottish Coal employed 732 people.
KPMG has retained 142 staff while they look to secure the sale of certain sites as well as the company's key assets.
Skills Development Scotland will help support those who have been made redundant.
The largest job losses in Scottish Coal are at the Broken Cross site at Douglas Water in South Lanarkshire, where a total of 191 posts will go. At the Dalfad mine in Muirkirk, East Ayrshire, 101 jobs have been cut and 89 staff will go at Dunstonhill at Patna in East Ayrshire.
Restoration process
Mr Ewing said: "Our concerns remain with the workers and families affected by the decision to make 590 Scottish Coal staff redundant.
"However, I very much welcome the view from the liquidators that there is a possibility that mining operations may continue.
"The Scottish government will do everything we can to secure the continued operation of the business on a sustainable basis, and we are in contact with both the liquidators and the trade unions in this regard."
Meanwhile, the minister announced that a trust was being set up to restore old open cast coal mines across Scotland.
He said: "Whilst our main concern is to retain as many of the existing Scottish Coal jobs as possible, the restoration process itself is expected, over time, to create hundreds of jobs across the country - as well as restoring the local environment."
Professor Russel Griggs OBE, chair of the Scottish government's independent regulatory review group, will chair the trust initially.
The Scottish coal industry supports 4,500 direct and indirect jobs and is worth £500m a year.
Scottish Coal was the biggest surface mining supplier in Britain, and biggest coal firm in Scotland.