Standard Life shares rise sharply on quarterly results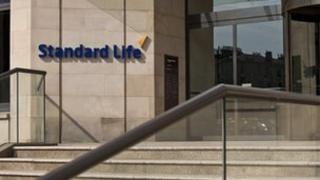 Shares in Edinburgh-based insurer Standard Life rose sharply on Wednesday after it reported a strong start to the year.
The company said new business sales relating to long-term savings increased by 26% to £6.3bn in the first three months of the year.
Assets under administration were also up 7% to just over £233bn in the period.
The group said that increase was driven in part by positive market movements.
The company also benefited from pension auto enrolment in the UK and higher corporate business in Canada.
Chief executive David Nish said: "We have made a smooth transition to operating under the new regulatory environment with encouraging early indicators from both our corporate and retail customers and their advisers.
"Canada has maintained momentum in its fee business and remains well placed in the growing pension market."
By the end of trading on Wednesday, Standard Life's share price was up 8% to 380.7p.