Index of Manufactured Exports: Sales volumes dip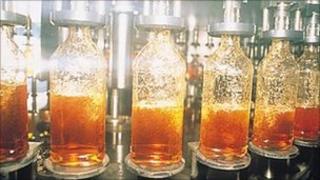 Scottish export sales have dipped despite a healthy performance from the drinks sector, according to the latest official figures.
Export volumes contracted by 1.4% in the last quarter and by 2.9% in the year to the end of December.
However, exports from Scotland's food and drink industry rose by 1.5% during the last quarter of 2012.
CBI Scotland described the overall fall as "disappointing" but added it hoped the dip would prove short-lived.
The latest Index of Manufactured Exports showed export volumes remaining about 9.8% below their pre-recession level.
The quarterly decline was mainly driven by contraction in the chemicals, coke, refined petroleum products and nuclear fuel sector.
Within the engineering sector, electrical and instrument engineering exports decreased by 6.6% in the fourth quarter, after growth of 3.3% in the previous three-month period.
Meanwhile, a 1.7% expansion in drinks exports was partly offset by a 0.8% fall in food and tobacco sales.
'Trying time'
The Scottish government welcomed the performance of the food and drink sector.
Finance Secretary John Swinney said: "Scotland's food and drink industry is continuing to thrive on the international stage, showing that our excellent natural larder and reputation for high quality produce is celebrated around the world.
"The challenging global economic conditions continue to make it a trying time for Scotland's export industries, which is why the Scottish government is working closely with Scottish Development International, Scottish Enterprise and Highlands and Islands Enterprise, to support companies to expand and reach out to new markets."
CBI Scotland assistant director David Lonsdale said: "The dip in the fortunes of our exporters during the final quarter of 2012 and indeed over last year as a whole is disappointing.
"However it will hopefully prove shortlived as our own Scottish manufacturing survey - published earlier this week - reported a slight uptick in export orders in the first three months of this year, and improving confidence levels amongst industry over its export prospects for the year ahead."