Scottish salmon producers report slight fall in exports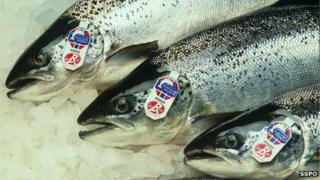 Scottish farmed salmon exports have dipped despite soaring sales to the Far East and emerging markets, according to new figures.
The Scottish Salmon Producers' Organisation (SSPO) said total exports fell last year by more than 3,000 tonnes to just over 78,000 tonnes.
However, sales to the Far East climbed by 64% to reach nearly 9,800 tonnes.
Exports to Brazil, India, China and South Africa also rose by 41% to reach 6,713 tonnes.
SSPO said that although overall exports had fallen slightly from their peak in 2011, they were still significantly higher than two years ago.
'Fantastic job'
Speaking at the European Seafood Exposition in Brussels, SSPO chief executive Scott Landsburgh said producers had done a "fantastic job in difficult economic circumstances", particularly in focusing on markets with the highest growth potential.
He added: "Like any farmed food, Scottish salmon is subject to price fluctuations and this has been a more difficult year in that regard but what has to be remembered is that our members are not only selling food abroad, they are selling Scotland's reputation for quality.
"We want to work with our associates in the Scottish government, Marine Scotland and Sepa, to ensure that Scottish farmed salmon maintains its reputation for the highest standards whilst being a major contributor to Scotland's economic success."