Pernod Ricard: Scotch whisky sales 'decelerate'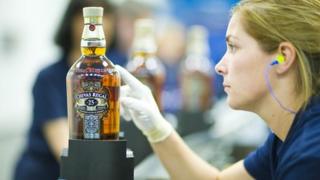 French drinks giant Pernod Ricard has reported a "deceleration" in whisky sales.
The second largest distiller of Scotch whisky said sales slowed in Asia and there were "challenges" in the Spanish market over the first nine months of the financial year.
Sales remained weak in South Korea and Thailand and slowed in China.
However, there was record growth for The Glenlivet, which saw sales up by 21%.
In Europe, excluding France, Pernod's top 14 brands continued to grow, despite a decline in sales of Ballantine's. The company attributed the fall to a "very challenging whisky market in Spain".
Pernod Ricard reported "rapid development" in India of its international brands driven by Chivas, Absolut, The Glenlivet and Ballantine's.
Indian whiskies continued to gain market share in the premium segment.
'Good resilience'
Overall, Pernod Ricard's consolidated net sales totalled 6.65bn euros (£5.62bn) for the nine months to 31 March - a rise of 5%.
Chief executive Pierre Pringuet said: "Pernod Ricard's business demonstrated good resilience in, as announced at the beginning of the year, a less favourable economic environment.
"Our growth is still based on the same drivers: our policy of premiumisation and innovation, the strategic brands and strong presence in emerging markets and the United States."
Industry figures released earlier this month suggested that rapid growth in Scotch whisky exports had stalled.
The volume of Scotch exported in 2012 fell by 5%, to 1.19 billion bottles.
The value grew, but by only 1%, to £4.27bn.