New export strategy for Scottish food and drink to be drawn up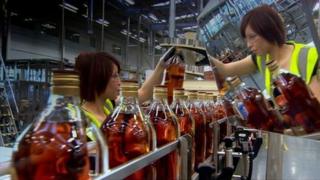 A new export strategy is being drawn up to help the Scottish food and drink sector target new and emerging markets.
The move follows a slight fall in exports last year.
Scottish Development International (SDI) said "ongoing global economic issues" which had impacted on exports could not be ignored.
SDI is already working on a new strategy with industry group Scotland Food and Drink and the Scottish government.
The latest figures showed that Scottish food and drink exports in 2012 reached £5.31bn - the second highest on record.
However, the total was 1.4% down on the 2011 figures.
Food exports during 2012 amounted to just over £1bn, while the drinks category - supported mainly by Scotch whisky - was worth £4.27bn.
Eurozone crisis
SDI said the eurozone crisis - which had affected consumer spending, particularly in Spain, Portugal, Greece and Italy - was partly to blame for the overall fall.
The agency added that the results reflected the need for the industry to broaden food exports into new markets, following the success of the whisky model.
SDI chief executive Anne MacColl said Scotland had enjoyed tremendous growth in food and drink exports in recent years.
"Nonetheless, we can't ignore some of the ongoing global economic issues which have impacted on exports this year, and we are continuing to support companies to identify where the big market opportunities will be in future years," she said.
"To this end, we are in the process of expanding our presence in regions such as Asia, Africa and the Middle East."
Ms MacColl added: "This will allow us to be even more proactive in responding to new international opportunities - particularly in emerging markets where having local staff with in-market expertise is vital to secure new business for Scotland."
Top destinations
Last year's official figures showed a change in the top three destinations for Scottish food and drink products, with the US overtaking France as Scotland's top export market.
Exports to the US grew by 12.5% to £817m during 2012, surpassing exports to France, which were valued at £675m.
The data also showed Singapore rising up the rankings to occupy the number three spot, with exports of £340.5m.
It is the first time an Asian country has occupied a top three spot.
SDI said the rise was largely due to burgeoning whisky exports to the country which, at £339m, account for the vast majority of total food and drink exports to Singapore.
'Area of focus'
Scotland Food and Drink chief executive James Withers said the latest figures highlighted a key area of focus for the industry.
He added: "Whisky exports have held up in tough economic times, with growth in Asia and other emerging markets making up for the drop in trade with Europe. The food industry needs to follow that model.
"Over 70% of our food exports go to the European Union, so we are focused on developing new customers in high growth markets with dedicated resource and increased activity.
"These markets are looking for premium quality food, with a strong provenance story, so our potential for growth is huge."