Cairn Hotel Group to refurbish prominent Scottish hotels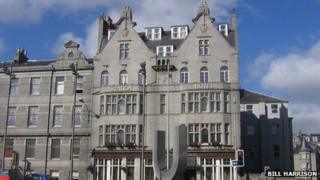 Cairn Hotel Group has announced plans to refurbish and rename two prominent Scottish hotels.
The company said work would be carried out at the Station Hotel in Aberdeen and the Royal British Hotel in Princes Street, Edinburgh.
They are among four UK properties which will be upgraded, following a £31.5m refinancing deal with HSBC.
Newcastle-based Cairn has set aside £6.5m to support the work and fund new acquisitions.
The group said more than 200 jobs would be created over the four locations as a result of the refurbishment.
The refurbishment programme is part of an agreement with the InterContinental Hotels Group (IHG), which will see the hotels adopt IHG brands while Cairn retains ownership and management of the properties.
The Station Hotel in Aberdeen and The Bellhouse in Buckinghamshire will become Crowne Plazas, while the Chasley Hotel in Wakefield will become a Holiday Inn Express. The Royal British in Edinburgh will be a Hotel Indigo.
'Broad hotel range'
Cairn employs more than 1,000 people across the UK and owns 21 hotels, including five in Scotland. Its most recent acquisition north of the border was the Fife-based Queensferry Hotel, which it bought last month.
Finance director Richard Warren said: "Our portfolio offers a broad range of hotels for a wide spectrum of customers, from the high end to travellers on a budget.
"However, some of our properties are better suited to a mainstream hotel brand as consumers are typically attracted to larger brands that they recognise and trust.
"That is why we have affiliated with IHG, which gives us a better path to market with some of our properties."