Leap in loans to first time buyers in Scotland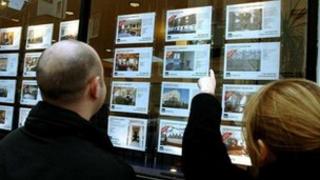 There was a 10% increase in the number of loans advanced to first-time buyers in Scotland in the first quarter of 2013, according to a report.
The Council of Mortgage Lenders (CML) figures showed 4,500 mortgages were taken out by first-time buyers between January and March compared with 4,100 during the same period in 2012.
However, there was a fall in loans to home movers with loans worth £710m advanced compared with £730m last year.
Remortgage lending remained subdued.
A total of £570m was paid to borrowers remortgaging in Scotland in the first quarter which was a 25% fall in the same period a year ago.
In the UK as a whole total lending grew by 4%.
In Scotland first-time buyers borrowed 2.81 times their income for their new home which was lower than the 3.23 times borrowed by buyers in the UK as a whole.
Lower property prices also meant that Scots spent 17% of their income on their mortgage compared with 19.5% in the rest of the UK.
Iain Malloch, chairman of CML Scotland, said: "With most adults in Scotland still viewing home-ownership as their tenure of choice and with more high loan-to-value mortgages now available, conditions for borrowers looking to either buy or move home are continuing to improve.
"The announcement of a new-build shared equity scheme, the continuation of MI New Home and the launch of the Help to Buy scheme next year, should provide a further boost to the Scottish mortgage market."