BT handed £50,000 roadworks fine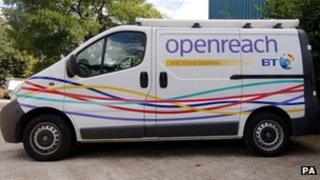 BT has been fined £50,000 for "serious failures" in carrying out roadworks in the north of Scotland.
The Scottish Road Works Commissioner found BT's Openreach division had committed a number of offences.
They included unsafe working practices, failure to co-operate with Highland Council, working without valid notification and using workers without correct qualifications.
The company was fined the maximum amount the commissioner could impose.
Scottish Road Works Commissioner Elspeth King said: "I warned BT about the numerous failures in compliance in Highland and expected an immediate improvement in performance, but this did not occur.
"As the offences were of a serious nature, many involving unsafe working, I have decided to impose the maximum penalty of £50,000.
"I hope that this action sends out a clear message to all organisations carrying out roadworks in Scotland that poor performance will be identified and penalised accordingly."
She added: "I am pleased to note that BT has now responded to the failures, confirming to me that it is fully committed to compliance in the future, and that it has introduced extensive new procedures to ensure this."