Glasgow Airport gains top safety rating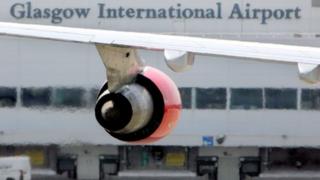 Glasgow Airport has become the first airport in the UK to achieve the British Safety Council's top rating.
Glasgow was granted the maximum five stars after four days of assessment.
The Occupational Health and Safety Audit was based on interviews with managers and staff, site tours, inspections and a review of the airport's safety management.
The airport said the safety of its staff and passengers was its top priority.
British Safety Council chief executive Alex Botha said: "We warmly congratulate the staff and management at Glasgow Airport for their success in gaining five stars in their first audit undertaken through the British Safety Council.
"Managing one of the UK's major airports, and all the risks that entails, is immensely challenging.
"The auditors identified many strengths in Glasgow Airport's management of risk in its operation, including the role played by senior management in providing leadership and direction, and the role of the wider workforce in ensuring the airport is kept safe and secure."
Glasgow Airport's head of assurance, Gillies Crichton, said: "The safety of our passengers and staff is our number one priority at all times and to be the first UK airport to achieve five stars in this audit is a fantastic achievement, particularly at the first attempt."