Heritage Lottery Fund backs skills projects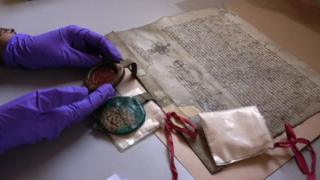 Five major skills projects in Scotland's heritage sector have won backing from the Heritage Lottery Fund.
The fund has earmarked more than £3m for a range of projects, which will create 118 paid training placements.
Initial support is being made through its Skills for the Future programme.
The projects are being led by Museums Galleries Scotland, Scottish Council on Archives, National Galleries Scotland, Natural Networks and the Prince's Foundation for Building Community.
Those picked for training will learn contemporary skills, such as developing digital material, as well as more traditional conservation skills.
The Museums Galleries Scotland project will give 20 people training in collections management, public programmes, volunteer management, digitisation and environmental management.
Conservation techniques
The Scottish Council on Archives will offer training across the archives sector, and will involve skills such as digital preservation and digitisation.
The National Galleries of Scotland will set up 12 traineeships to enable more of the Scottish national collection of photography and works on paper to be made available online.
Natural Networks will provide 32 year-long placements in green network skills such as species identification, biological recording and habitat conservation techniques.
The Prince's Foundation for Building Community plans to train 36 young people in five traditional heritage skills - stonemasonry, carpentry, plastering, land crafts and roofing.
Colin McLean, head of the Heritage Lottery Fund in Scotland, said: "We have been overwhelmed by the demand for our Skills for the Future programme.
"The heritage sector is becoming more and more popular as a career option, with demand for places far exceeding supply.
"There is also great demand from the organisations that run these programmes.
"Skills for the Future has enabled them develop their training capacity and plug heritage skills gaps.
"Through championing work-based placements, we are giving people the experience and training to pursue a career in heritage while ensuring that the sector is in a strong position, given that a decade ago many feared that key heritage skills would be lost."