Nexen's Buzzard North Sea oil field shut down again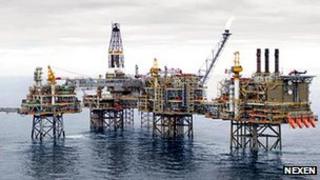 Production has been disrupted for the second time in a month at one of the UK's biggest North Sea oil fields.
Nexen's Buzzard field, about 60 miles north east of Aberdeen, was shut down after equipment failure led to intermittent output at the weekend.
Nexen said it was preparing to restart the field and expected output to return to normal by midweek.
A month ago, Buzzard was shut down for several days after a "release of steam" at the field.
Buzzard normally produces about 200,000 barrels per day.
Last September, the field was shut for maintenance work and did not resume production until early November.
The field holds enough crude to potentially deliver about 10% of the UK's annual forecast oil demand.
Buzzard, run by Nexen and with BG Group a 21.7% shareholder, is one of the biggest North Sea fields to be developed in the last 10 years.