Gas extraction firm Dart Energy lodges planning appeal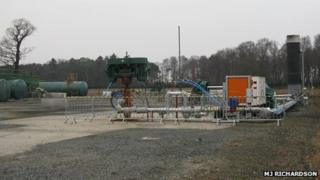 An unconventional gas developer has asked the Scottish government to rule on its plans to extract natural gas from coal seams in Central Scotland.
Australian firm Dart Energy first lodged an application with Falkirk Council last September to drill at a number of sites in the Forth Valley.
The company is now lodging an appeal with ministers.
Dart said it wanted "clarity" on its application as the council had not yet reached a decision.
It added that the significance of the Airth project made the appeal "the most appropriate route" for a decision.
The company, which has already drilled 20 wells in the area, wants to drill at a further 14 sites and build a water and gas treatment plant.
Several hundred objections to the plans have been lodged with the council.
Dart also applied last year to Stirling Council for planning permission, as part of the gas field lies inside its boundaries. The planning process is, however, being led by Falkirk.
In a statement, the firm said the deadline for a decision by Falkirk Council had so far been extended by four months and "clarity" was now needed on its application.
'Nationally significant'
Mark Lappin, Europe general manager for Dart Energy, said: "Our proposal to extract coal-bed methane gas from the Forth Valley basin has been very carefully developed in close consultation with relevant regulatory bodies such as the Scottish Environment Protection Agency.
"The potential of this project is nationally significant on many counts.
"The volume of gas is such that we have an agreement in place to supply Scottish and Southern Energy - a key contribution to Scottish and UK energy security at a time of declining North Sea supplies."
Mr Lappin added: "We very much hope that in giving full consideration to the application the Scottish government will recognise the strategic importance of Dart's investment and the value of this vital natural resource to Scotland's overall energy mix."
'Complex application'
Falkirk Council development manager Ian Dryden said the council was aware of Dart's decision to lodge an appeal, although it had not yet received formal notification.
He added: "This is a complex planning application which has raised a number of significant environmental related issues and received substantial public representation which must be fully considered as part of the assessment of this planning application.
"Although no agreement had been reached to extend the determination date beyond 7 May, planning officers have remained in active dialogue with Dart Energy throughout this process."
Friends of the Earth Scotland called on the Scottish government to turn down the application as soon as possible.
Campaigns co-ordinator Mary Church said: "This is a clear sign that Dart is so desperate for a decision that it is unwilling to let the proper democratic processes take place within the councils.
She added: "It's increasingly clear that the public health and environmental risks of unconventional gas drilling are inherent and impossible to eliminate."
Drilling history
The Airth project has been existence for a number of years.
Five wells drilled in the area in the 1990s established the presence of natural gas in coal seams.
Ten more wells were drilled by Composite Energy between 2004 and 2011, before it was acquired by Dart Energy. Since then, one further well has been drilled which is now producing gas.
Gas is now being used to generate electricity which is then exported into the local power network.
Dart said it was delivering sufficient electricity for about 300 homes.
In August 2011, Dart International and SSE Energy Supply Limited entered into a gas sales agreement for five years, with effect from April this year.
Dart says no hydraulic fracture stimulation, or "fracking", is employed on its wells.