Law Society of Scotland to review conveyancing rules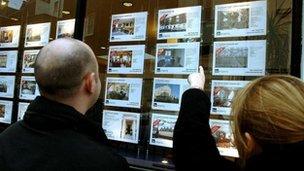 Legal procedures over the buying and selling of homes could be overhauled after Scottish solicitors agreed to review conveyancing rules.
The Law Society of Scotland is to set up a working group to look at ways to modernise and improve procedures.
It follows proposals by members to end the exception to conflict of interest rules in property sales.
Currently a solicitor can act for both buyer and mortgage lender in property transactions.
Ross MacKay, convener of the society's property law committee, said: "The background to this is the discussion on separate representation in conveyancing transactions as we believe the current situation needs to change.
"We felt that the current discussion on separate representation has created a prime opportunity to examine residential conveyancing as a whole and to consider how we can modernise and improve the processes involved, yet preserving the unique characteristics of Scots property law which benefit in my view the Scottish public."
Mr MacKay said there had been a number of improvements in recent years, such as introducing standard clauses across parts of the country and increased use of new IT and online technology, but the society believed there was room for further change and innovation.
He added: "The aim of establishing the working group is to bring together highly knowledgeable individuals with a deep understanding of current conveyancing practice, as practitioners or academics or with a consumer interest focus, to consider how we can update and improve what we currently do to benefit everyone involved in buying and selling a home."
The working group will produce a six-month interim report which will be put before the society's council for consideration.
Related Internet Links
The BBC is not responsible for the content of external sites.