Record savings for manufacturers, Scottish Enterprise figures show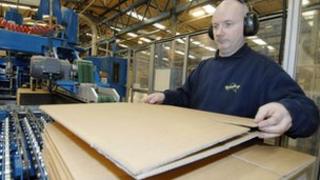 Scottish manufacturing firms have achieved a record £21m of business efficiency savings in the past year, according to new figures.
Scottish Enterprise said it had helped manufacturers complete a total of 184 business improvement projects.
The total was 23 fewer than the previous year.
The economic development agency said the figures showed companies were spending more time and money on "higher impact projects".
The food and drink and energy/engineering industries delivered a total of 75 business improvement projects, while the food and drink sector achieved the most savings, at £4.1m.
The Scottish Manufacturing Advisory Service (SMAS), which is run by Scottish Enterprise, said the past year had seen a big shift from companies investing in "fix-it" type projects to "cultural changing, transformational projects".
SMAS director Nick Shields added: "Encouraging and supporting these types of projects is not only key to driving growth in Scotland's manufacturing sector, but provides a platform for companies to access higher value support such as exporting, innovation and account management."
Finance Secretary John Swinney welcomed the figures.
He said: "The £21m of savings shows the delivery of more high value, transformational projects which has helped improve production techniques, reduce costs and boost their competitiveness.
"Since it was set up in 2006, SMAS has delivered 870 business improvement projects contributing over £110m of value added benefits to Scotland's economy.
"SMAS support is a driver for growth and a platform for higher value support such as exporting, account management, supply chain development and investment."
He added: "Supporting businesses now and in the future to be more competitive will mean Scottish companies have the best chance of success."