Pensions firm Aegon to shut regional offices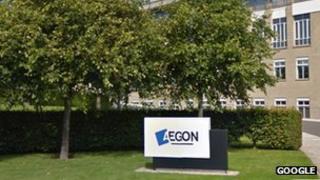 Life and pensions firm Aegon is to close six regional offices in the UK, putting 160 jobs at risk.
The Dutch firm, which has its UK headquarters in Edinburgh, said it took the decision to keep pace with changes in technology and the way financial advice is delivered.
Centres in Glasgow, Birmingham, Bristol, Guildford, London and Manchester will be closed.
However, the group said it would create about 40 new roles.
Aegon plans to streamline and centralise its sales support activities in its Edinburgh office.
It says this will "allow the creation of a centre of excellence".
Last month the company reported a 20% drop in profits, blaming the implementation of the Retail Distribution Review (RDR).
RDR put an end to financial advisers earning commission on products they sell to customers.