Economic recovery 'more strongly embedded', Bank of Scotland says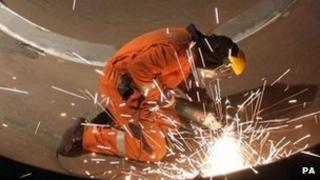 The recovery in the Scottish economy is "becoming more strongly embedded", the Bank of Scotland's chief economist has said.
Donald MacRae's comments came as a survey suggested Scottish economic activity grew in May at its fastest pace since April 2011.
The bank's latest PMI report indicated "solid and accelerated increases" in output and new business at Scots firms.
It also recorded the fastest rise in employment for more than a year.
The pace of economic expansion was broadly in line with the average across the UK as a whole.
Factory output north of the border increased for a second straight month in May, while the rate of job creation at Scottish manufacturers also accelerated.
Workforce numbers expanded at the fastest rate since February, and have now risen in each of the past four months.
Overall, Scotland posted a stronger increase in employment than any other part of the UK, except for the West Midlands.
New business
The amount of new business increased for the sixth month in a row, with the latest rise being the most marked in more than two years.
The report cited stronger domestic demand as the main factor underlying that growth, as new export orders placed with manufacturers fell fractionally on the month.
Input price inflation weakened to an 11-month low, although output prices rose for the fifth straight month.
The level of business activity in the Scottish service sector also rose at its sharpest rate in more than a year.
The pace of job creation picked up for the third straight month.
Nearly 16% of businesses recruited additional staff over the month, twice the proportion that recorded a decrease in payroll numbers.
Bank of Scotland chief economist Donald MacRae said: "Output grew in manufacturing and activity was strongly up in the large services sector, with an encouraging rise in new orders across the economy evident for the sixth month in succession.
"However, growth appears confined to the domestic market, with new export orders falling slightly in the month, illustrating the effects of the recession in the eurozone.
"These results show the recovery in the Scottish economy is becoming more strongly embedded with every passing month."