'Clearer signs' of economic recovery in Scotland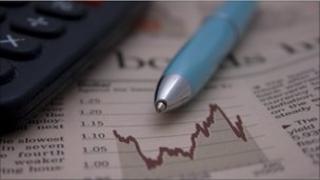 The Scottish economy is showing clearer signs of recovery but it is far weaker than would be expected five years after a recession, a report has suggested.
The Fraser of Allander Institute cited the UK government's austerity programme and a weak export performance as reasons for the "anaemic" recovery.
The think tank found business services were now growing strongly.
But the report warned that financial services appeared to have suffered a structural decline.
Manufacturing output and export performance was also weak, it said.
The institute maintained its GDP growth forecast at 0.9% for 2013, but lowered its forecast for next year from 1.7% to 1.6%.
The report said that despite evidence of recovery, its forecasts reflected continued weakness of domestic demand, in particular government spending and consumer expenditure.
They also reflected weak anticipated growth in the rest of the UK and eurozone markets, which are key areas for Scottish exports.
'Weak recovery'
Scottish GDP rose by 0.5% in Scotland in the last quarter of 2012, while falling by -0.3% in the UK.
But the institute said that once declining oil and gas production was removed, Scottish and UK growth was "largely identical".
On that basis, GDP grew at 0.5% in the UK, compared to 0.3% in Scotland.
The report concluded that recovery continued to be weak in the UK and a "little weaker still" overall in Scotland.
"Bright spots" included evidence that business service activities were now recovering strongly after contracting by more than 6% during the recession.
By the end of the fourth quarter 2012 gross value added (GVA) for those activities stood 5.1% above its pre-recession peak.
The institute, which is based at Strathclyde University, singled out the performance of financial services as a cause for concern.
It stated: "When we disaggregate the data we find that a structural decline appears to have been taking place in financial services in Scotland.
"GVA has now fallen more than 17% below its pre-recession peak, a loss of around one-sixth of total output in the sector.
"There seems a strong likelihood that some of this lost output may never return."
Jobs forecast
The report raised its forecast for job creation, following a stronger labour market performance recorded in recent data.
It now forecasts that net jobs will rise by 12,150 in 2013, rising to 28,200 in 2014 and 38,700 in 2015.
Its unemployment forecasts have been revised down from March. It anticipates that the jobless total will be 213,000 at the end of 2013.
However, the institute expects the jobless position to "deteriorate slightly" in 2014 compared to 2013, due to relatively weak output and employment growth.
Unemployment is now forecast to be 228,000 by the end of 2014 but is expected to fall back to 189,350 by the end of 2015 as growth in the economy strengthens.
Earlier this week, the Bank of Scotland's latest survey of purchasing managers suggested the recovery in the Scottish economy was "becoming more strongly embedded".
The bank's PMI report for May indicated "solid and accelerated increases" in output and new business at Scots firms.
It also recorded the fastest rise in employment for more than a year.
The pace of economic expansion was broadly in line with the average across the UK as a whole.